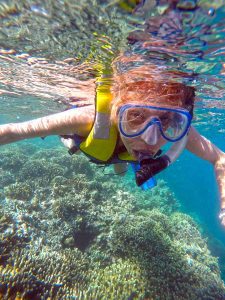 The Snorkelling Boat Trip Costa del Sol – Our awesome fun-filled snorkelling boat trips here on the Costa del Sol are of 4 hours duration or if you specifically wish for a shorter snorkelling period we also have the two-hour swim and snorkel trip available here.
We offer an exhilarating snorkelling boat trip and wonderful day out here on the Costa del Sol aboard our new, spacious and very comfortable modern boat.
Spend a fabulous day out on the Mediterranean Sea off the coast of the Costa del Sol, snorkelling, sunbathing and relaxing.  

SAFETY  & ENJOYMENT OUR PRIMARY CONCERN
The boat is fully insured, licensed for 6 persons (max. 5 adults + 1 child under the age of 13). and in tip-top shape and is technically superior and carrying a full complement of safety equipment on board.
The safety and enjoyment of our clients is our primary concern. We also have equipped the boat with top quality Hydro-static automatically inflating life jackets and we have various communications on-board to ensure our clients' safety.
Note: Due to safety concerns snorkelling trips only operate in daylight hours. Torrox and Nerja are also only 10 to 20 minutes drive from the La Caleta Marina where we have our mooring – there's plenty of free parking.
THE BEST SNORKELLING BOAT TRIP, COSTA DEL SOL.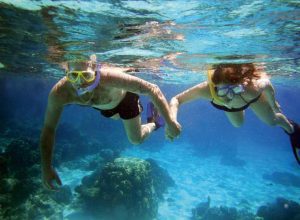 Our snorkelling trips leave from our berth at La Caleta Marina which is located between Torre Del Mar & Torrox and also only 20 minutes from Nerja.  We offer various departure times for trips please check the trips calendar for specific times.
THE SNORKELLING BOAT TRIP DEPARTURE STARTS FROM  LA CALETA MARINA NEAR TORROX & NERJA.

We depart from the La Caleta Marina heading east along the
Axarquia coast passing by Torrox and Nerja on our snorkelling boat trip heading
towards the amazing Maro Waterfalls here on the Costa del Sol. We then arrive at the pristine virgin waters of the Marine Reserve of Maro & Cerro Gordo. 
This is a protected area and the sightseeing and snorkelling here are superb. It is an absolutely stunning area and really should not be missed.  

THERE ARE A PLETHORA OF WONDERFUL BEACHES
The better-known ones are Playa Carabeo, Playa de la Alberquilla, Playa del Canuelo and Calas del Pino. There are also hidden gems that are unreachable by land and untouched that are well worth the time to jump over the side of the boat and go snorkelling. We'll stop wherever you like  – -in permitted areas – and when you like.
AN AREA OF OUTSTANDING NATURAL BEAUTY
This is a snorkelling trip of a lifetime at a marine reserve in an area of outstanding natural beauty. You won't find anything quite like this anywhere else on the Costa del Sol! A treat, that no family with inquisitive children should miss.
THE BEST SNORKELLING LOCATION ON THE COSTA DEL SOL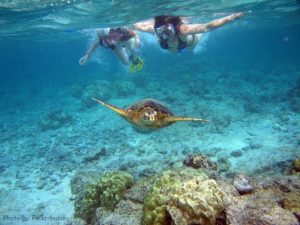 Snorkelling is enjoyed by thousands of the Cost Del Sol's visitors every year, and for many visitors' it's their favourite activity. Some people plan their vacation around this wonderful activity with near-perfect conditions here during the summer months, water temperatures of between 23c and 25.6c with breath-taking underwater scenery, and marine life.
There are many reasons why snorkelling is such a popular pastime but those who love the sport have attributed it to the chance to see a magical and mysterious underwater world. Filled with brightly coloured and vibrant sea life. But also because it is very calm, peaceful, and another worldly experience all going on under the surface unseen by most people.
In order to know what makes this sport so popular, you'll have to experience it for yourself and if you've never gone snorkelling before then the chances are you'll love the sport.
It's also great exercise for your cardiovascular system!
For the more experienced snorkellers…
We recommend our Snorkelling Boat trip here on the Costa del Sol. You should experience what it's like to go snorkelling in deeper waters out from the shore.
Just slip into the water off the end of our boat or down one of the two deep-water ladders located on the boat's stern or side and that provide easy on – easy off access to and from the boat. There is also a freshwater shower on-board the boat for your use on your return from snorkelling adventure.  When Deepwater snorkelling the use of a life jacket is recommended if you are not confident. When snorkelling in some deep water locations you can well be rewarded with magnificent underwater scenery which typically is more diverse and exciting than what you'll find closer to shore. There is a different thrill that you get in being deeper water.
Deepwater snorkelling is, of course, not recommended for everyone.
SNORKELLING EQUIPMENT
All Costa Boat Trips snorkelling trips and tours include the free use of all snorkelling equipment, masks, fins, snorkels which are all in top/new condition and hygienically washed out at the end of each day.  
TOWELS.
Fresh clean large beach size towels are provided free for your use during your snorkelling trip.
COMPLIMENTARY DRINKS AND SANDWICHES.
Complimentary drinks, both alcoholic & non-alcohol-free with fresh daily made sandwiches are included in your trip.
FUEL. Captain and fuel are included in the price of your snorkelling trip.
For snorkelling trips and tours bookings and availability please contact us directly or check the calendar under "CONTACT US" found on the heading menu at the top of our web site's start page or….Email: info@costaboattrips.com.  Phone (+34) 615 598 270
Costa Boat Trips for a wonderful snorkelling trip to remember.